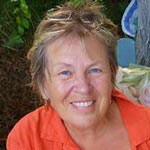 "I paint the abstract within the real" – Aili Kurtis.
An award-winning artist who explores the rhythms and patterns of the Canadian Landscape in her studio overlooking a beautiful lake in the Rideau Valley, Aili Kurtis seeks the abstract within the real and creates images that move away from reality while still maintaining the appeal of the theme.
Raised in northern Canada (Yellowknife, N.W.T.), Aili painted the people and the rugged landscapes of the North before going south to study art at the Ontario College of Art in Toronto. She went on to receive a degree in Art Education from the University of Quebec in Montreal, and then moved to Ottawa where she has been a Creative Director of Corel Corporation, a graphic designer, a courtroom artist for CTV, and an instructor at the Ottawa School of Art.
Aili paints in acrylic, oil, and pastel. In 2004 was awarded the title of "Master Pastellist" by the Pastel Artists of Canada, and is a signature member of both PAC and the Pastel Society of Canada. Her award-winning paintings have been published in the Pastel Journal, the International Artist Magazine, and The Artists Magazine. She is featured in two books: "Seascapes, Rivers & Lakes" (International Artist, 2004) and "AcrylicWorks" to be published by North Light Books in 2014.
Here is a recent article in International Artist Magazine that talks about Aili's philosophy of art:  Aili Kurtis_Demo