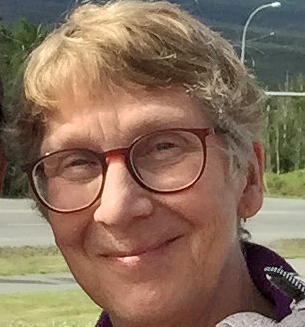 Working with acrylics on canvas, I create images from local areas such as Murphy's Point Provincial Park and Lanark County.
My paintings reflect my fascination with the interaction between light, colour, pattern in water and landscape. Because of the many layers of design in the transparency of water, the possibilities are endless. I work to capture these mesmerizing qualities.
I explore the reflections that outline the movement in water – the reflected sky above reaching down. The bottom sand, rocks and grasses reaching up. The changing colours of the forest edges trying to define it.
Colour is important. I usually begin with a canvas that has a wash of colour such as violet or orange, which provides vibrancy, contrast and continuity to the painting. The initial blocking-in is done with purple or red, and the darks are added in as navy blue or deep purple. Then, with the addition of colour, the painting takes on a life of its own. It seems that the best paintings paint themselves.
My work is an ongoing process of discovery – that is, the observation of some aspect of nature that I have noticed and brought to life through my personal interpretation and style.
Membership:
• Elected member of Ontario Society of Artists
• Rideau Lakes Artist Association
• West Carleton Art Association
• Arts Carleton Place
• Eastern Central Ontario Art Association
• West End Studio Tour in Ottawa – 15 years.
• Art Works! Perth.
I have exhibited at various galleries in Ottawa and eastern Ontario, and my art is in collections throughout the world.