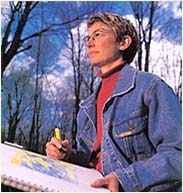 Past and present experiences influence Bonnie Brooks' paintings. Raised on a farm in Adolphustown, Ontario, she was encouraged by her mother, who was also an accomplished artist. Following a Fine Arts degree at the University of Guelph, Bonnie was able to study under Carl Schaefer in his later years. A trip to Portugal was pivotal in appreciating the role of sunlight within her watercolours. In 1999 Bonnie was accepted into the Canadian Society of Painters in Watercolour. In August 2000, Bonnie was one of fifteen artists selected to be included in H.M. The Queen's Royal Collection of Drawings and Watercolours, Windsor Castle.
Bonnie continues to evolve in her artistic expression of nature images. Her new medium of choice is acrylic and mixed media. Bonnie's acrylics are influenced by her childhood on the farm, and convey ordinary farm objects with a sense of familiarity and place. An old discarded bucket, worn work boots, and a red flannel shirt are some of the objects she paints.
"To me, art is about experimenting and growing in ones own artistic direction. I'm always striving to improve and strengthen my means of expression".
Photo of Bonnie Brooks by Bernard Clark