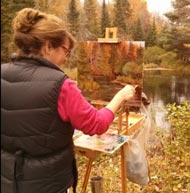 Karen was born in Toronto, where she was fortunate enough to attend Western Technical Commercial School which is renowned for producing some of Canada's finest artists from its full-time art program. She then won a scholarship to Sheridan College in Oakville, where she studied Illustration. This formal art education started her on a career as a commercial artist in newsprint, doing layouts and illustrations.
In 1978 at age 22, Karen began to hone her craft starting first at the Kingston Whig Standard as retail advertising creative director. After 11 years she returned to Toronto to be an editorial artist at the Toronto Sun.
Over the past several years Karen has returned to painting landscapes in oils and more recently, large florals based on the jewels from her own garden. She has won numerous awards with several art group associations including Best Design and Composition with The Willowdale Group of Artists, Best Drawing and honourable mention with the Franklin Carmichael Group of Artists and honourable mention with the East Central Ontario Artists Association.
In February 2017 Karen had her first solo show at the Scugog Council for the Arts in Port Perry. She also has her paintings available through Meta4 Contemporary Craft Gallery, located at 200 Queen Street, in downtown Port Perry. Karen's passion for painting in oils 'En Plein Aire' has taken her outside of her urban origins to the rural countryside of Port Perry and now back to Kingston. Both hometowns have many historic sites and gardens that Karen delights in painting. If Karen is not painting she can be found taking photos for future studio works.