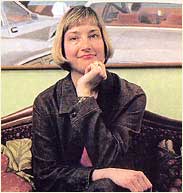 Maureen paints canvases that capture 'slice of life' moments that allow the viewer an intimate view of the scene. She is a perceptual realist whose subject matter ranges from regional scenes–people rowing, hiking or playing–to scenes of places she has visited around the world. Much of the effectiveness of her painting owes to her sensitivity to light and keen observation. Working from fact, memory and improvisation she evokes what is universal in everyday life.
"Maureen Sheridan creates quiet, understated paintings that sneak up on you and lodge themselves in your imagination before you're aware of it".
—Melanie Dugan, The Whig Standard
Maureen's paintings are included in many private and corporate collections in Canada, the U.S.A. and Europe.