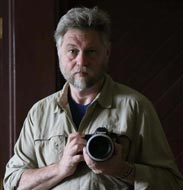 I grew up with my father documenting my family's growing up years. First with a Brownie film camera, and later as finances allowed, an 8mm movie camera. My first excursions with the borrowed Brownie wet my appetite for something more. Shooting B&W with my new 35mm SLR for the High School yearbook introduced me into the world of candid portraiture. I spent far too much time in the darkroom at the expense of my grades and social life, I'm sure. Most of the communities that I was involved in and my experience with them were documented one way or another. Those early photographs continue to be shared today, and continue to celebrate and cement our history together.
When I began to use my brother's used digital point-and-shoot camera, my photography world shifted again. My love for photography was rekindled. My ability was enabled as the darkroom was now replaced with Photoshop. Slowly I allowed my creativity to resurface again, capturing the connection between the outside world and my own perspective.
On recent trips to Kenya, and almost 14,000 photographs later, my sense of creativity and vision focused on a new purpose. The photo-documents of my travels and the people I encountered were shared, and a new confidence was born.
In more than 44 years of taking photographs I feel that I am finally focusing on what I really want to achieve as a photographer. I want to tell stories. I want my photos not only to capture my interpretation of beauty, but I want to convey someone else's world through portraiture, as they allow the camera to reveal a part of themselves. I want the photos to serve a higher purpose other than for their own sake.
This is a quote by one of my favourite photographers:
There is a creative fraction of a second when you are taking a picture. Your eye must see a composition or an expression that life itself offers you, and you must know with intuition when to click the camera.

—Henri Cartier-Bresson