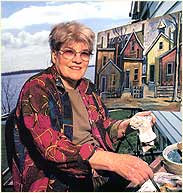 Grace was born in Kentville, Nova Scotia and has lived in Kingston since 1966. Largely self-taught, she has studied under such well-known artists as Molly Reid, Lenni Workman and J. David Brown. Since 1980 she has exhibited in various group shows in Kingston, as well as solo showings at Gallery David, Brock Street Gallery and Gallery Raymond. Her popular paintings are found in many private collections.
The distinctive character of Kingston architecture has long held her interest, and is evident in her renderings of street scenes and historic homes. Her works in acrylic and oil are direct and uncluttered with a bold use of primary color patterns. Her watercolors often depict local waterfronts, seascapes and country scenes.
Grace continues to devote much of her time and energy to painting, deriving great enjoyment from her art.
Photo of Grace George by Bernard Clark