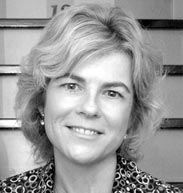 I am a graduate of the Ontario College of Art and Design where I majored in textile design. After graduating, I remained in Toronto and worked as a design and studio assistant as well as producing and selling my own woven designs.
Soon children came along and I found myself wanting to leave the city so I packed up my young family and moved back to my hometown of Kingston Ont. My floor loom, when it is up and running, would take up most of my living room with all the yarns and patterns spilling into the dining room. None of this was conducive to small children running around. My new Level Series as a stay at home mom flourished, however when my youngest entered grade one I knew my time had come and I was so ready to get back to my art.
Much to my surprise I didn't turn back to my loom and all that it entailed, instead I picked up a paintbrush. At the time it seemed like a much less complicated route to my creative whims and painting had the added bonus of taking up much less space. I claimed a spare room on our third floor as mine and my painting began.
The artist in me responded immediately and I knew I had found artistic fulfillment. Unlike weaving where you can leave nothing to chance and make no mistakes, I found the process of painting ultimately freeing. That was back in 1996 and today I find it very interesting that my painting continues to evolve from the elements of pattern, colour and texture. This is what I brought forth from my weaving and fibre knowledge and I feel that these elements will be a fascination with me.